Distilled by Pike County's Pauley Hollow Distillery, Fuel of the Feud moonshine is made from water drawn from the McCoy well, which is located on the property where, on New Years Eve, 1888, the Hatfields attacked the McCoy homeplace, burning it to the ground. This product will become available in July, 2019, and is one of many projects planned that involves the McCoy Well property.
McCoy Well owner, and Hatfield descendant Bob Scott, along with his wife Rita, worked tirelessly over the course of the past few years, to make this product a reality.
"This product not only tastes great, but it also gives locals and visitors an opportunity to own an artifact from Hatfield McCoy Feud Country," said Scott, who is also a Pike County Tourism CVB board member. "This is more than a drink, this is a keepsake for those who love the history, and it is something that further enhances Pike County's tourism offerings."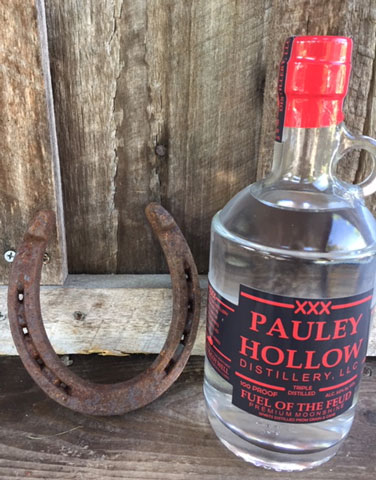 "Products are more meaningful to our visitors when they have a story attached to them," said Jay Shepherd, Pike County Tourism CVB Marketing Director. "This is a product with a story. A Hatfield designed it using water from Randolph McCoy's well, and a Pike County distillery distilled it."
"Moonshine has long been part of the heritage of Appalachia and the Hatfields and McCoys," said Ron McCoy, direct descendant of Randolph McCoy. "Like so many aspects of feud history, moonshine has its negative connotations. However, using the water from the McCoy well is a truly unique way to produce an authentic product distilled by a local business, one that promotes the unity between the families and is respectful of our mutual heritage."
"Keeping with the tradition of the feud, Fuel of the Feud is made from a mashbill of West Virginia corn and Kentucky rye along with malted barley and cane sugar," said Josh Martin, owner of Pauley Hollow Distillery. "It is distilled in a copper pot still in small batches. This 100 proof moonshine has an initial sweet corn flavor with a spicy rye finish."
Pauley Hollow Distillery's Fuel of the Feud will be available this July, and can be purchased in Liquor stores across Kentucky.
A special tasting will be held at the 4th of July Under the Fireworks event as well. Click here for details.
Fuel of the Feud Gallery
A special tasting will be held at the 4th of July Under the Fireworks event as well. Click here for details.